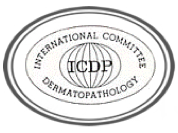 I C D P   –   International Committee for Dermatopathology
ISDP – INTERNATIONAL SOCIETY OF DERMATOPATHOLOGY
SILADEPA – SOCIEDAD IBEROLATINOAMERICANA DE DERMATOPATOLOGIA
SLAP – SOCIEDAD LATINOAMERICANA DE PATOLOGIA
CILAD – COLEGIO IBEROLATINOAMERICANO DE DERMATOLOGIA 
INTERNATIONAL BOARD CERTIFICATION IN DERMATOPATHOLOGY
The International Society of Dermatopathology and the Ibero-Latinoamerican Society of Dermatopathology will organize under the auspices of the International Committee for Dermatopathology the International Board Certifying Examination in Dermatopathology (Diploma in Dermatopathology) in
Sao Paolo, Brazil
October 9, 2018
Participating Societies:
ICDP-International committee for Dermatopathology
ISD-International Society of Dermatopathology
SILADEPA- Ibero Latin American Society of Dermatopathology
SLAP-Sociedad Latinoamericana de Patologia
CILAD-Colegio Ibero-Latinoamericano de Dermatologia
General Information
The International Board Certification in Dermatopathology (Diploma in Dermatopathology) will be organized on October 9, 2018 , in Sao Paolo, Brazil.
The first part of the examination (morning) is a written examination that consists of approximately 50 multiple choice questions. These questions are taken from the relatively recent literature (Journal of Cutaneous Pathology, American Journal of Dermatopathology) and primarily from the major Dermatopathology textbooks. Controversial issues and very recent developments are avoided.
The second portion of the examination (morning – again multiple choice) is a series of projected slides from topics that include immunofluorescence (bullous diseases), immunohistology, and clinical/histological pictures (clinicopathological correlation).
The final section of the examination (afternoon) consists of digital slides (70-100). The examinees are asked to provide the best diagnosis from multiple choice or short-answer questions. The slides are straight forward; however, a few rare, non-controversial entities will be included.
The location for the examination and meeting point is:
Faculdade de Medicina da USP.
Avenida Dr Arnaldo 455.
Estação de Metrô Clinicas, linha verde.

The examination will begin at 9:00 am; please come 15 min. earlier. The end is planned at 6:00 pm.
The deadline for receipt of application is September 30, 2018 – "first come, first serve". 30 candidates can be accepted.
Requirements to sit for the Examination
Candidates must have successfully completed their residency training in either dermatology / pathology as required by the various national licensing bodies (Board Certification).
It is expected that after completion of the residency training the candidates have spent a period of 12 months of specialized training (full-time) in dermatopathology or 2 years of experience training (post-board part-time = 50%) in dermatopathology.
They should also confirm continuous and authentic exposure to dermatopathology during their residency time.
A letter of reference by the chairman of the institution or the program director in dermatopathology confirming the training in dermatopathology must be sent with the application form.
In addition a copy of the Specialist Board Certification in Dermatology and/or Pathology and a curriculum vitae must be included.
I might be useful to send also a list of dermatopathology-related publications from the last 5 years.
At the moment this "grandfather clause" is used.
New regulations will be applied in the future.
Examples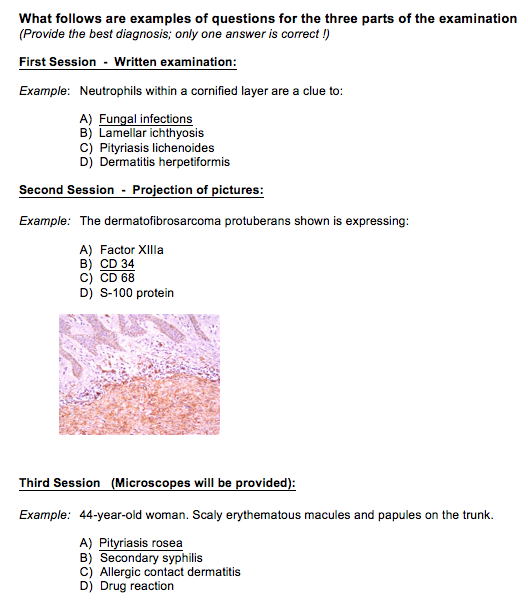 Fee
Registration Fee:   US $ 500.00
The fee for the examination must be paid by July 10, 2018
It is important that the fee has been paid to the following  web page:
https://slap-patologia.org by July 10, 2018
The deadline for receipt of applications (including all requested documents, see the attachment) is September 30, 2018
The number of candidates is limited. The places will be assigned on a "first come, first serve" basis.
You can send your  scan papers to
Omar Sangueza md, [email protected]